Keystone Hiking Engagement Session
Karleigh & Addison led me on their favorite local hike with their adorable pup, Nollie! The views from their typical hike are to die for! Their were mature aspen groves, wild flowers and views for miles! What makes this location for their hiking engagement session so special was that this was the exact spot that Addison proposed! I love when my couples pick out amazing locations that are near and dear to their hearts! And this my friends, certainly is! Her perfect colorful engagement ring was burning a hole in Addison's pocket and he just couldn't wait till their mountain bike ride later that day…. so he stopped Karleigh and Nollie mid-hike to join them and he proposed to Karleigh at the top!
I really enjoyed the hike and the fantastic company! We hiked around the aspens and the top of the mountain with Nollie sneaking in most of the shots! It's going to be a Where's Nollie type of photography gallery! She just needed the glasses and hat to make it an official where's Waldo gallery! Here's just a few photographs from the hiking engagment session!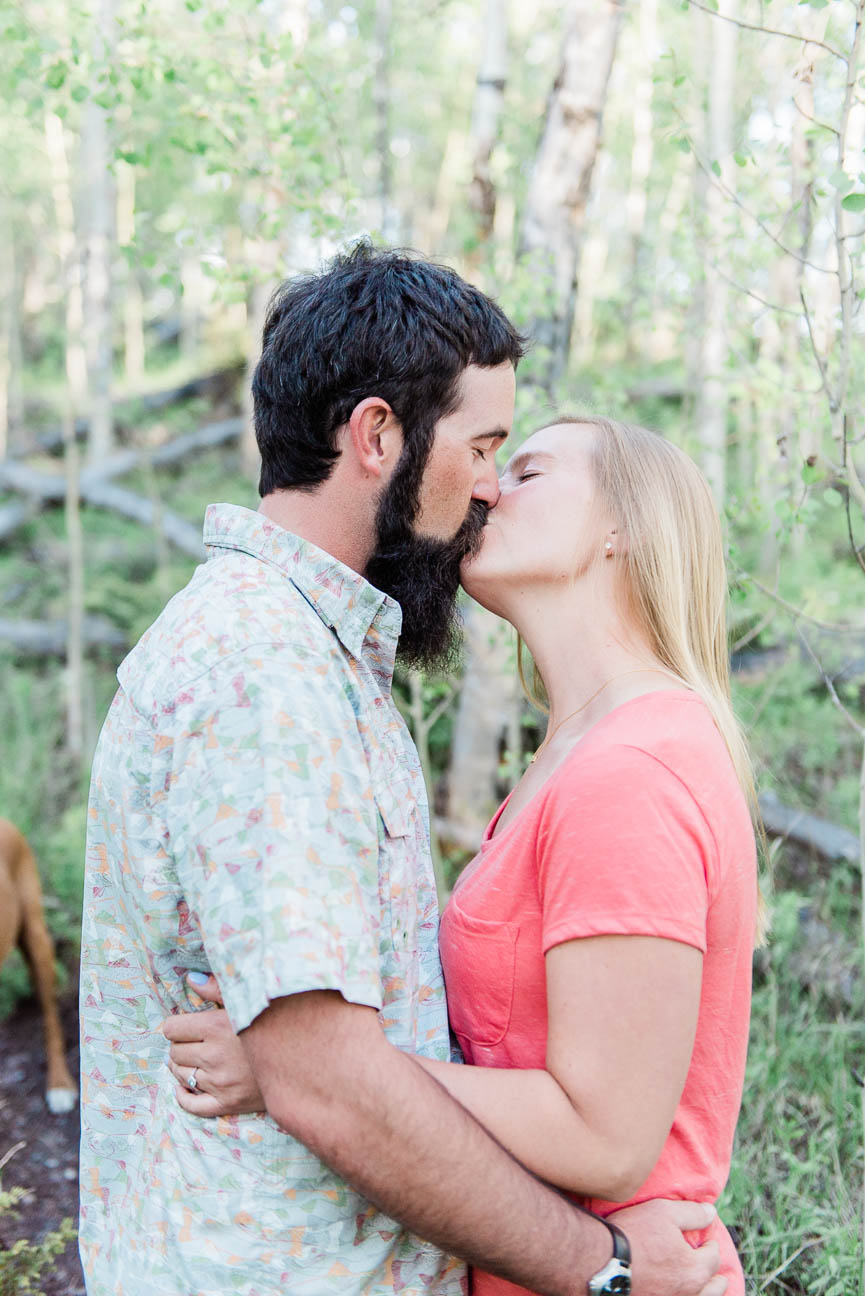 Get to know Karleigh & Addison:
How did you two meet?
We met through mutual friends at a game night. It was a set up! We drank and played cards against humanity, I hula hooped while we listened to music. After that night we began dating;)
What's the bride's favorite thing about the groom?
I love his humor, his kind heart, work ethic, adventurous spirit and how he takes care of me and Nollie.
What's the groom's favorite thing about the bride?
I love Karleigh's spirit; her kindness, intelligence and always seeing the good in everything. She motivates me to be a better person.
What is your favorite thing to do as a couple?
Outdoor activities throughout the seasons. In the winter we ski as much as we can, while in the summer we mountain bike lots too. We love being outside together.
What's the Bride's top two love languages?
Words of Affirmation
Physical Touch
What's the Groom's top two love languages?
Gift Giving
Acts of Service
Bride's Drink of Choice
Wine
Groom's Drink of Choice
Beer
What's the bride's favorite color?
Rainbow...she loves all colors equally.
What's the groom's favorite color?
Green
If y'all could travel anywhere in the world, where would it be and why?
At this point in time, being that it is ski season, it would definitely be Japan...endless powder. Although, we have always talked about going to Italy.
If y'all could sit down and eat dinner with anyone dead or alive, who would it be and why?
This is a tough question for Karleigh, but Addie would hands down say Jerry Garcia. Not only was he a talented musician but also smart and enlightened.
If y'all both got to pick a superpower, what would y'all pick and why?
Karleigh would love controlling the weather think blue bird powder days and no wind when water skiing. I think that having health regeneration would be sweet...like Wolverine.